Merlin - Barred Owl
Merlin was brought to Audubon's Center for Birds of Prey in 1984 as a juvenile. While a very young bird, he had spent several weeks (illegally) with humans, and as a result he became imprinted on humans. Birds which imprint on humans rather than their own species have no hunting or other survival skills. Center staff placed Merlin with the permanent resident barred owls for foster care with the goal of releasing him to the wild. Unfortunately, the other owls realized that Merlin was "different" and attacked him, leading to the loss of one eye. If the staff had been told the truth about his prolonged exposure to humans, he would have been kept as an imprint but not housed with the other owls. Stories like Merlin's are of vital importance, educating people of the harm ultimately caused when wild birds are kept in captivity.
Gopher - Burrowing Owl

Gopher was brought to us from Kenansville in Osceola County, Florida in 2015. He had multiple fractures in his right wing. His injuries were possibly caused by entanglement with a barbed wire fence located close to his burrow. His name "Gopher" reminds us that burrowing owls burrow in the ground, much like gopher tortoises, which are a threatened species in Florida.
Tony - Eastern Screech-Owl
Tony, a brown-phase Eastern Screech Owl, was rescued after he fell from his nest in May of 2002. He had severe trauma to his left eye. After several weeks of treatment, it was determined that he would never regain the use of the eye, and it was surgically closed. Since owls depend on their eyesight as well as their sense of hearing to hunt for food, Tony would not be able to survive in the wild. He was deemed non-releasable and became a permanent resident of the Audubon Center for Birds of Prey. Tony has become an Audubon Ambassador and participates in educational programs raising public awareness about the importance of saving raptors and their habitat. Screech Owls are generally nocturnal and normally spend most of the day roosting in hollow trees. These owls will use man-made nest boxes when natural nesting sites are unavailable.

Henry - Great Horned Owl
Henry was brought to the Center in July 2019 from Geneva, FL as a fledgling. Radiology exams revealed a previously fractured ulna that had healed incorrectly. Possible causes are a fall from the nest or being stepped on in the nest by a parent or sibling. Although Henry is partially flighted, he is not a strong enough flier to survive in the wild. Henry is a glove trained bird and one of the Center's Audubon Ambassador birds educating the public on Great Horned Owls and the conservation of their habitat.
How you can help, right now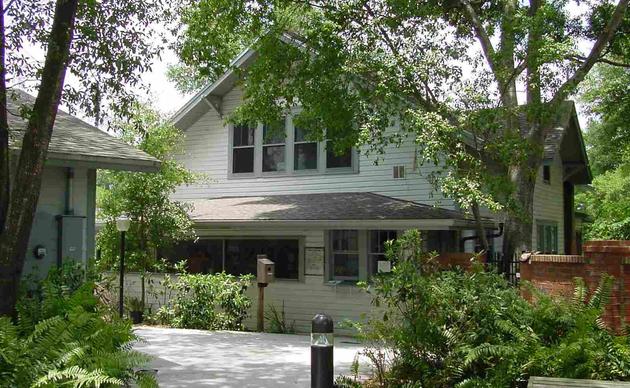 Become a Water Steward
Engage the public in water and energy conservation using simple steps to save water inside the home, outside the home and in your community.