Ronia - Red-shouldered Hawk
Ronia was brought to the Audubon Center for Birds of Prey as a young bird in spring of 2010 from St. Lucie County. Her injuries were caused by falling from her nest. She was sent to us for evaluation as a possible human imprint. Imprinting on humans means she associates with humans more than red shouldered hawks. She has no hunting or survival skills, so was determined to be non-releasable. Ronia is glove-trained and serves as an Audubon Ambassador, visiting schools and other facilities to educate people about raptors. She is very vocal and days that she is not away on a program she is perched in our bird garden with the other ambassador birds.
Penrod - Cooper's Hawk

Penrod was brought to the Audubon Center for Birds of Prey in 2005. Part of his right wing was missing when he was found in a bush as a fledgling. Apparently his parents were still feeding him, because it was not time for him to leave the nest. Cooper's Hawks were known in colonial America as the "Chicken Hawk". This medium–sized accipiter is a common sight at home bird feeders across the country, swooping in to nab an unwary dove or jay.
Newman - Short Tailed Hawk
Newman was found hanging from a amage to the right wing, making him non-releasable. After multiple surgeries at Winter Park Veterinary Hospital and special bandaging to encourage skin growth, he was placed with our permanent birds.

Scarlet - Red-tailed Hawk

Scarlet was admitted as a young bird in November 2016 from Washington county, Florida. She had a gun shot wound to her right shoulder which caused a fracture. Pellet fragments were also found throughout her right shoulder which left Scarlet unable to fly. Red-tailed Hawks do not get thier iconic red tail feathers until about a year of age, so it wasn't until Fall of 2017 that Scarlet grew tail feathers that live up to her name.
How you can help, right now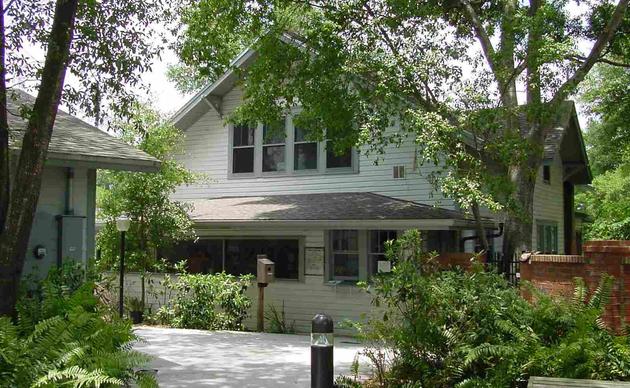 Become a Water Steward
Engage the public in water and energy conservation using simple steps to save water inside the home, outside the home and in your community.